There's purple in my pocket!!!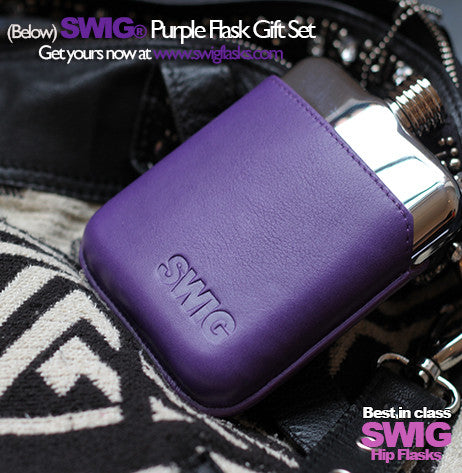 In the Christmas of 2013 (When I was generally offline and down to my last pennies) I met a gentleman at the 'Spirit of Christmas' Fair at Kensington.  He wanted purple. 
He was after a SWIG, but it had to be purple. No problem! I had a couple of shades in stock (my old summer range was REALLY varied with whatever was available from my leatherworker that week). I set about packaging up one of my light purples in a SWIG numbered well below 500!
He urgently advised me to not do something as ridiculous... as he would only accept a very specific shade. An almost violet purple. One we only had left in our lovely glass cabinet.
I shoo'ed him off. Hinting that I may help him if he comes back in 4 days at the end of the exhibition when I wouldn't need my beautiful display anymore.
I think I saw a tear form, but he maintained his dignity and wished me farewell.
4 days later, guess who returns? He proudly showed me his phone to backup his eagerness... It was one image of him in a full set of Purple Shooting Gear! The exact same shade of purple. Everything- the hat, coat, gloves and shoes... It looked so damn good. and he was so damn proud!
So in honour of this gentleman, I have commissioned the exact same shade for a trial run of 35. Get 'em while they are hot and enjoy. (PS it is 33 now as me and Nicole refuse to share).
Let me know what you think!
Cheers,
David
(#00000)
Share this